Welcome to the 50th (!) edition of Tuesdays With Mitch, where the sports calendar is slowly heating up along with the weather. I'm breaking down a hot topic in the Denver sports world this week. Off we go…
The Denver Nuggets are bad. They won't be making the playoffs for the first time in ten years. After last night's (fairly dramatic) loss to the Timberwolves, the Nugs are ten games out of the eighth and final playoff spot in the Western Conference. Danilo Gallinari will end up missing the entire season. The human puzzle that is JaVale McGee was not solved this year. Ty Lawson has been out for the past nine games. (He returned last night.) They have a first-year coach and new general manager. Andre Miller– who once appeared to be a true professional– yelled at the coach and pouted like a child and got suspended and traded. All this has led to an incredibly uninteresting and down year for the Nuggets, with each game providing nothing to play for.
Unless they lose.
With each loss that sends the Nuggets tumbling towards the bottom of the NBA standings, the chances of Denver ending up with a higher draft pick increase. This puts the team, and their fans, in a very interesting predicament.
Tanking is complicated and there are a few important things to remember with all of this.
First, keep in mind the NBA has a draft lottery, which was originally implemented to prevent teams from tanking. With this system the team with the worst record does not necessarily get the number one overall pick, the 2nd worst team doesn't necessarily get the number two pick, and so on. It all depends on those damn ping-pong balls.
Second, the Nuggets have the rights to the Knicks' top pick if it is more favorable than their own. So if the Knicks finish with a bad record, get a lucky bounce, and end up with a better draft pick, the Nuggets will pick in that slot. And Carmelo and the Knicks are pretty damn bad. The Nuggets are currently 25-33. The Knicks are 21-40. Neither team is making the playoffs, so the "more favorable" pick will be determined after the Draft Lottery. This means that even if the Knicks finish with a worse record, the Nuggets still benefit by losing games. Each loss for each team means more ping-pong balls in the spinny clear cylinder thing for the Nuggets.
Third, this year's draft class figures to be remarkably deep. The crop of freshman in the NCAA is loaded with NBA-level talent. If the Nuggets or Knicks are bad enough and the ping-pong balls bounce in the right direction, Denver could have the opportunity to draft an impact player that is easily better than any of their draft picks since Anthony in 2003. Names like Jabari Parker, Andrew Wiggins, Joel Embiid, Julius Randal, Marcus Smart, Aaron Gordon, Noah Vonleh, Tyler Ennis, and presumably some foreigners I've never heard of, represent hope for the Nuggets.
It's also very important to note that the NBA is different from other leagues when it comes to building a championship-level team. There are only twelve active guys on a roster and five guys on the floor at one time, so having a superstar is imperative. Without a superstar, the best situation you can hope for is being the post-Carmelo Nuggets. Good, but not good enough.
Additionally, in the NBA the superstars dictate where they want to play more than any other league. This leads to superstars leaving for bigger billboards and more lucrative shoe contracts in larger markets.
They don't want to play in Denver.
So there's only one way for a team like Denver to contend for a championship:  Draft a superstar and win before his rookie contract expires or hope your superstar is a different guy in a unique situation that is cool with sticking around. (Think Duncan in San Antonio or Durant in Oklahoma City.)
So, with all that in mind, I say…. Tank Away, Nugs! Tank Away.
This whole concept is a weird one.
From the perspective of the players it doesn't make sense. You think Wilson Chandler really wants to compete with Andrew Wiggins or Julius Randle for playing time next year? Hell no, he doesn't. So it's kind of silly to think the players will go out there hoping for a higher draft pick, especially in the NBA where playing time is in such high demand.
From the perspective of the fan it only kind of makes sense. You're supposed to sit there literally rooting against your favorite team? Hoping for Lawson turnovers? And horrible defense from Faried? Even if you understand the reasoning behind the tanking process, that just feels… dirty.
So here's my outlook:  I watch the Nuggets (follow is probably a better term; that team can be awfully hard to watch) and I don't necessarily root for them to lose. I look for progress from young players and hope to see Lawson looking healthy again and that kind of thing. But then when they inevitably lose, I shrug and maybe do a mini fist-pump.
The Nuggets aren't contenders because they don't have good enough players. Look what Nathan McKinnon is doing for the Avalanche. Or what we are hoping Jon Gray will do for the Rockies. Teams need good players to succeed. The easiest way to acquire good players, especially in the NBA, double especially in Denver, is through the draft.
The ineptitude of the Nuggets, combined with the ineptitude of the Knicks combined with the structure of the NBA combined with the talent in this draft class make for a golden opportunity for the Nuggets.
They can't afford to waste it by winning games.
Tank away, Nuggets. Tank away.
And to remind you of the kind of players the Nuggets currently have, here's Jan Vesley, your newest Nugget, faking out… nobody. Or a ghost or something.
Bro. There is nobody standing in front of you. Why are you jab-stepping?
Moving on to the weekly departments…
Stud of the week:
This week's stud is Nic Pizzolatto (not pictured above, that's Matthew McConaughey, stupid), creator and writer of the best TV show currently on the air. The season finale of True Detective (HBO) airs Sunday night and figures to be a doozey. The gripping/creepy/dark/fascinating crime/mystery/detective/cop show is starting to produce as much internet chatter as the final season of Braking Bad generated a few months ago. Woody Harrelson and Mathew McConaughey put together performances that are just about the best thing I've ever seen on TV. McConaughey is almost certain to add an Emmy to his new Oscar, which is pretty impressive to pull off in the same year. You should probably figure out a way to watch this show.
Here's a little preview of the season finale.
`
(If you're a fan of the show, you should really be reading the weekly reviews done by both Alan Sepinwall and Molly Lambert. They're great.)
Douche of the week:
K.C. Ross-Miller is the New Mexico State player that hurled the basketball at a Utah Valley player as time was expiring Thursday night. Coincidentally, the UVU fans were rushing the court at the time and the combination led to an ugly fan-player brawl.
`
Interestingly enough, I spoke about the rules of court-rushing last week. My take is that there are no more rules for rushing the court. The importance of the game or prestige of the program no longer matters. Anyone who wants to rush the court can do so whenever they want.  After the scene shown above, many in the college basketball world are arguing that court rushing should be banned. For everyone. All the time.
I'd be fine with that too.
Sure there will always be an element of danger like we just saw, but to me the whole thing is just tired and trivial, played out and pointless. The more I think about it, the more I am inclined to believe we should just be done with the whole mess. The only casualty will be drunk kids missing out on their chance to get on SportsCenter.
Anyway, the guy that threw that ball is probably a pretty huge douche.
Tweet(s) of the week: I don't care who you are or what you believe, this (since deleted) tweet from Texas State Senator Dan Patrick (not the sports TV guy) with a pretty crucial freudian slip is just funny.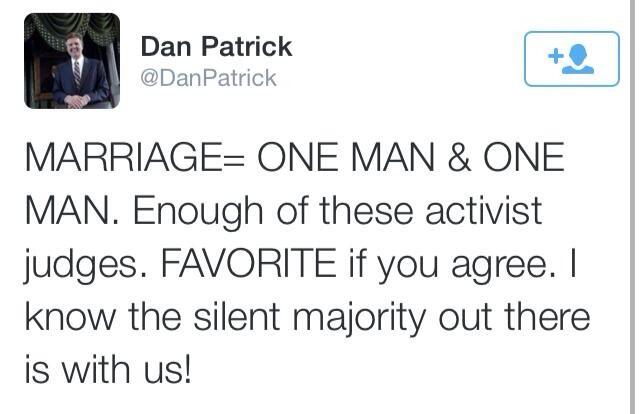 I should also probably include this tweet because it's been retweeted like 5 times more than any other tweet ever. Like 3 million retweets. The previous "record" was 780,00 or something. Unreal. We live in a strange world, don't we?
What to watch the next seven days:
This category is still being dominated by college basketball… CU plays at Stanford tomorrow night at 7 on ESPN2. Their tournament stock is falling, but they're still in most projected brackets after their past two losses. That will change if they don't win at least one game this week. They play Saturday at Cal to finish the regular season.
There is a handful of really good college basketball games on Saturday. The best might be when #21 New Mexico visits #10 San Diego State on Saturday for a de facto Regular Season Mountain West Championship Game (assuming both teams win tomorrow night). Should be awesome. 8:05 on CBS Sports.
Also worth watching is Duke vs. UNC, SMU vs. Memphis, and UConn vs. Louisville.
The Avs are still worth watching. They are in Chicago in a very interesting game tonight at 6. Then at Detroit on Thursday. I'm pretty excited for the upcoming stretch run for the Avalanche.
Monitoring the Nuggets' "Tank-O-Meter" will be interesting from here on out.
Picture of the week:
And finally, here is a truly awful commercial featuring Tom Izzo dancing (I guess?) on a ladder:
`
***
Happy Tuesday everybody. Thanks for reading. See ya next week.
Comment on any of this stuff below, or email me at mdhahn1@yahoo.com with post ideas, videos or other media I should know about. Subscribe at the top right of this page. Follow me on Twitter @MitchDHahn.